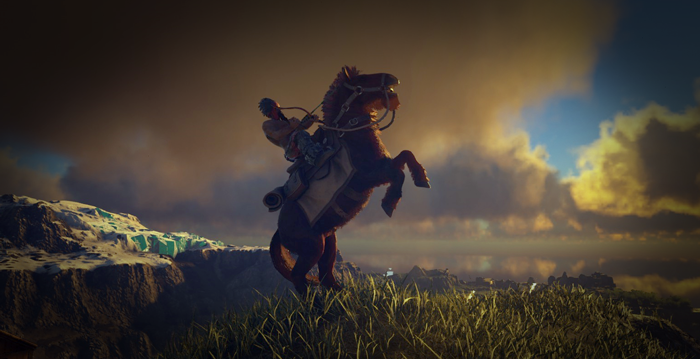 Backstory
The year is 1805 and the world is bustling with expansion and exploration. Much is still being discovered of the United States. Indians and westerners are living off the land and have great tensions on the territories.  However a great rip in space-time has started to form in the frontier, unknown and ever devouring its surroundings. Your world as you know it will be lost forever.
Today is the day everything changed; the dimensional rift has sucked you in and torn your clothes from your body. You wake up semi naked in a strange land. Is this part of your world? You are unsure, yet all around you strange creatures lurk. They must have been torn into this reality as well. Hungry lizards as large as a bison! What is this place?! Then it dawns on you these are monsters from another time.
You have entered the prehistoric wild west. You pick yourself up from the sand and start your journey…….
Factions

This group is focused on building/economy and animal care. These are civil people bound by law that choose to uphold the law and respect laws written by others. Crimes are rarely committed but will happen on occasion when driven by honor and passion. Cowboys have a strong sense of right and wrong. Various members of this faction can be, sheriffs, barmaids, barbers, ranch hands, woodcrafters, weaponsmiths, etc (all towns folk).

Goals: Ranches, Towns, Economy, Protection, Law
Dislikes: Anarchy, Bloodshed, Savages

---
This group is focused on building/economy and animal care. These native people live with the land more naturally and are in tune with nature and wildlife. The Indian knows from right and wrong and has many arrangements, usually bribing others for defenses and protection. While passive by most standards make no mistake these kind hearted folk are very territorial and protective of their tribe/arrangements and will not be walked on. Various members of this faction can be, chiefs, seamstresses, crafters, animal soothers/breeders, crop tenders, etc (all village folk).

Goals: Living with land, Village, Economy, Protection, Spiritual
Dislikes: Anarchy, Bloodshed, Bandits, War

Last edited by Bunn3h on Tue Nov 14, 2017 4:47 am; edited 1 time in total
Admin





Posts

: 102


Carrots

: 19


Join date

: 2017-06-03


Age

: 28


Location

: VA



MORE FACTIONS RELEASED SOON!
Admin





Posts

: 102


Carrots

: 19


Join date

: 2017-06-03


Age

: 28


Location

: VA




Similar topics
---
Permissions in this forum:
You
cannot
reply to topics in this forum