Weekly Events
Monday Mondays




Double Buck drops!

Double Tame Tuesdays




Tame boosted to x6

Fight Club Fridays

Wild Weekend




Random effect is active all weekend!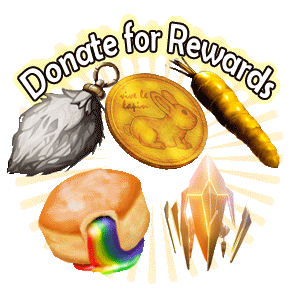 Become a Patron!
Top posting users this week
Last edited by Haacub on Mon Aug 14, 2017 7:14 pm; edited 3 times in total

Haacub

Banned





Posts

: 9


Reputation

: 0



You know what, you had three chances to change. Three more chances than others have had on different servers. It hurts others when you break rules. You never thought about the consequences of your actions and now when you get banned you spout this shit about "changing". REALLY? You've made people cry, you've made people quit this server, you've written verbal attacks on the Admin, and the worst of it all you are not sorry. You are not sorry at all. So why when you admit that you have broken the rules and have had so many chances that the admin should allow you back on so you can start the same shit all over again? People like you make me sick.

OrderoftheFox

Dodo Destroyer





Posts

: 5


Reputation

: 5



Last edited by Haacub on Mon Aug 14, 2017 7:14 pm; edited 3 times in total

Haacub

Banned





Posts

: 9


Reputation

: 0



Lets poke holes in your argument.
1.) Bunn has all her conversations with you.
2.)Golden Rule Baby--nobody would've attacked you if you didn't do it first
3.)You are insincere, yes the server was PVPVE but when you pull this I'm nice bullshit. Bullshit. Offer somebody aid after YOU raided them is wrong. Hey yeah i just killed your dinos and took your loot but hey you want me to come over there and give you some stuff I took from you back and maybe while I'm at it I'll help you tame another. (that's how people see your niceness--it's sorta screwed up)
4.)Sorry is a word with no meaning after its been abused. You lessen the meaning of the word with overuse. Your 'sorry' means nothing to anybody in the community
5.) YOU should have thought about your actions and your written words before you post or enact them.

You were only treated how you treated the community to begin with. You went out of your way to kill others peoples dinos, to kite dinos into peoples bases, skirt around the rules until you got caught and banned. You know what you did was wrong, and you did it anyways. DO THINGS RIGHT. Is a motto at my job; I follow it day in and day out. I didn't go out of my way to kill you, to kill your dinos, to hurt you verbally. No your a product of your own design, you bring out the worst in people buddy. I am sorry that you don't have a server; however you can make one for $160 every 6 months. You can run your own server where you can see what Bunn has to deal with when people like you join and ignore the rules or skirt around them. She doesn't like to ban people, she investigates thoroughly before she banns, she caught you breaking rules. Now adapt and learn your lesson, your banned from Bunn3h's Den Server. Stop posting for a ban appeal, because I am sure that one will not be given. I am 'sorry' that you have to find another server to play on. "Never regret yesterday. Life is in you today and you make your tomorrow" --L. Ron Hubbard. You've made your decisions, mistakes, and regrets, now move onto tomorrow being a better person for it.

OrderoftheFox

Dodo Destroyer





Posts

: 5


Reputation

: 5



While ban appeals fall under admin jurisdiction, I do feel that these appeals are a subject that effect the entire community. As a veteran player of the Den, I personally feel that lifting this particular ban would be ill advised. We've seen a lot of players come through the server over the last few wipes, and none of those players ever possessed the willpower and common since to change themselves for the better.  

Speaking on behalf of Bunn3h, I have known her for a good long time, and when it comes to areas of disciplinary  action, she is extremely thorough in her findings and is not prone to taking rash action. The decisions that she makes are always made with the communities best interests at hand, and I trust that they always will be.

I am a person that strongly believes in the idea of second chances and the opportunity for change and the betterment of ones self, however when chances have been dealt out time and time again, and have been abused each of those times, the ability to deserve another chance is irrelevant and invalid. The word sorry begins to lose its power, and eventually becomes useless.

I would like to explain in detail why I've come to feel that this appeal should not be considered: This opinion is not a bias adopted because my friends and previous tribe mates disliked Haccub, but rather because of his displayed behavior that I witnessed first hand.

My first encounter with Haccub was rather pleasant, but within the next day, I began to quickly gather that his behavior was one that would never mesh well with the community. Despite my distaste for his behavior, I held my opinion in reservation in hopes that my observations may be proven wrong. With the next day he again proved to me that his behavior wouldn't mesh with the community when he coped and attitude with Bunn3h and in response to a direct command, replied "fuck that".

That level of disrespect if absolutely unacceptable. While these minor issues are just a few of the many things that I wanted to talk about, I've also heard many other accounts from other players, and also am taking into consideration that he was brought to the point of being banned in the first place.

Therefore we come to my final conclusion and thoughts on the matter: Haccub was warned, multiple times, he has not shown any improvement on his behavior after three chances, the word sorry has lost it's effectiveness and meaning. Allowing such a player back into the community would be a mistake, because it will only cause further headache and more work later down the line.

kind regards,
Brent

Brent147

Carno Conqueror





Tribe

: Elysium


Posts

: 129


Reputation

: 7


Age

: 29


Location

: Illinois, USA



Hello, again. Just wanted to see how everyone is doing and hoping my ban could be appealed and that I could get accepted back into the community. Sorry for everything I did

Haacub

Banned





Posts

: 9


Reputation

: 0




Blaze

Dodo Destroyer





Posts

: 11


Reputation

: 7



Not here to argue blaze.. So don't try to start anything man. I'm here to pledge my appeal and say sorry for all I have done. All I ask is to be accepted back into the community. I'm truly sorry. I hope all of you accept my apology.

Haacub

Banned





Posts

: 9


Reputation

: 0



Please Bunn3h, let me talk to you on Discord after a week off I truly have nothing to do it has been hell for me and I've thought about all I have done If your willing to give me another chance I'll prove the community wrong about my personality and character, I want to make things right and not how they were in the past

Haacub

Banned





Posts

: 9


Reputation

: 0



Not sure if you saw my reply to your brother.

"I'm sorry to hear that. Sadly I feel that all this comes much too late, the fact so many people are so upset means the community needs time to heal and forgive.

Maybe eventually after much time it can be reconsidered but at this point in time the ban will remain permanent."

Much time probably means for the rest of this cycle, and that's only to reconsider not to 100% remove the ban. Like I said this situation is delicate and you let it go way too far.


Bunn3h

Admin





Posts

: 294


Reputation

: 28


Age

: 30


Location

: VA



---
Permissions in this forum:
You
cannot
reply to topics in this forum