Weekly Events
Monday Mondays




Double Buck drops!

Double Tame Tuesdays




Tame boosted to x6

Fight Club Fridays

Wild Weekend




Random effect is active all weekend!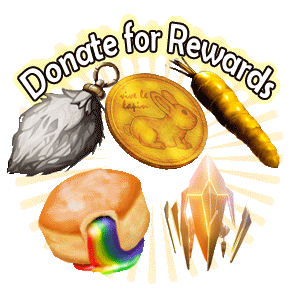 Become a Patron!
Top posting users this week
Recently I was banned from this server. I walked by another player and said "Hi" and was immediately accused of something I didn't do. My potty mouth on global got horrid, I was angry at the matter and I'd like to be given a chance to prove that I can be a great helper and player on the server. I feel its important to stand your ground (just not in the manner I did) when players make absurd accusations with no proof. I'm sorry for the name calling in global chat, I was just so angry. I do feel like I was being singled out though. All I ask is that the incident be given a fair examination as I feel that I'm not the only party at fault."


Pls contact me via Steam or email @lockdown416@homemail.com

ladlethina

Dodo Destroyer





Posts

: 2


Reputation

: 0



You have not been banned, and never was.

I was warning you about breaking the "No verbal attacks/personal insults" rule. You are the only one in that situation that took things too far, so I suggested read the rules or a ban could happen if things repeat. My exact words: "i suggest you learn server rules or you will face a ban."

Calling people "retard, wanker, asshole, full of shit" is never excusable.

Bunn3h

Admin





Posts

: 294


Reputation

: 28


Age

: 30


Location

: VA



ok so false accusation is fine ok no prob I get it boss.

i think i understand the rules.

ladlethina

Dodo Destroyer





Posts

: 2


Reputation

: 0



People accuse things all the time in ark PvP. Making a rule telling people to not be paranoid would be silly and very impossible to enforce.

And honestly for logs it seems like that player was talking to everyone asking a question about raiding.

Bunn3h

Admin





Posts

: 294


Reputation

: 28


Age

: 30


Location

: VA



Never once in logs did this person specifically say your name or slander your person.

slander is against server rules and you might wanna check the meaning of that word it's "false accusation". I will not tolerate the fit you appear to have on my rules page about this.

You lack all proof and when I pulled logs to investigate your claim it was YOU breaking rules.

Bunn3h

Admin





Posts

: 294


Reputation

: 28


Age

: 30


Location

: VA



Documentation of player asking a PVP question then situation being blown into something wicked:
[2017.09.10-12.34.41:987][779]2017.09.10_12.34.41: Ladlethina (Ladlethina): hiya

[2017.09.10-12.34.56:770][124]2017.09.10_12.34.56: Tri_Gunner01 (Tri_Gunner01): isnt it against rules to break things with no reason

[2017.09.10-12.35.02:225][254]2017.09.10_12.35.02: Tri_Gunner01 (Tri_Gunner01): hi

[2017.09.10-12.35.03:140][276]2017.09.10_12.35.03: Morningstar (Jacker): They should come by my base and take their stupid allo

[2017.09.10-12.35.08:101][395]2017.09.10_12.35.08: Ladlethina (Ladlethina): LOL thats some serious accusation

[2017.09.10-12.35.32:195][ 3]2017.09.10_12.35.32: Tri_Gunner01 (Tri_Gunner01): ya

[2017.09.10-12.35.36:576][116]2017.09.10_12.35.36: Waifu (Waifu): no you cant base wipe

[2017.09.10-12.35.39:205][185]2017.09.10_12.35.39: Ladlethina (Ladlethina): I litre;y log on and some douchbag makes bold accusation your so full of shit asshole

[2017.09.10-12.35.51:081][480]2017.09.10_12.35.51: Ladlethina (Ladlethina): fuckig retard

[2017.09.10-12.36.03:418][798]2017.09.10_12.36.03: Waifu (Waifu): whoa you need to chill

[2017.09.10-12.36.21:600][238]2017.09.10_12.36.21: Tri_Gunner01 (Tri_Gunner01): well someone destroyed all of my ariconditioners

[2017.09.10-12.36.26:245][346]2017.09.10_12.36.26: Ladlethina (Ladlethina): says the asshole who just accusme me of breaking your shit ya ofc I am

[2017.09.10-12.36.27:497][375]2017.09.10_12.36.27: Morningstar (Jacker): Rip

[2017.09.10-12.36.52:403][985]2017.09.10_12.36.52: Ladlethina (Ladlethina): I LITRLY walk by and say hi and this asshole starts ripping me one fuck you dude

[2017.09.10-12.37.04:627][289]2017.09.10_12.37.04: Wenju (Wenju): its pvp

[2017.09.10-12.37.10:546][446]2017.09.10_12.37.10: Waifu (Waifu): ^^

[2017.09.10-12.37.14:914][560]2017.09.10_12.37.14: Waifu (Waifu): Plus its a game

[2017.09.10-12.37.16:682][607]2017.09.10_12.37.16: Ladlethina (Ladlethina): no its not I was told this PVE it even says it in title

[2017.09.10-12.37.23:996][799]2017.09.10_12.37.23: Vinny_Vex (Vinny): pve/pvp

[2017.09.10-12.37.26:693][872]2017.09.10_12.37.26: Tri_Gunner01 (Tri_Gunner01): are you talking about me ladlethina

[2017.09.10-12.37.26:964][879]2017.09.10_12.37.26: Waifu (Waifu): its a pvpve

[2017.09.10-12.37.27:960][906]2017.09.10_12.37.27: Wenju (Wenju): pve during week, pvp weekend

[2017.09.10-12.37.28:143][911]2017.09.10_12.37.28: Vinny_Vex (Vinny): pvp on weekends

[2017.09.10-12.37.29:659][951]2017.09.10_12.37.29: Morningstar (Jacker): Pvp in the weekends

[2017.09.10-12.37.33:136][ 43]2017.09.10_12.37.33: Wenju (Wenju): its in the tittle

[2017.09.10-12.37.38:695][193]2017.09.10_12.37.38: Ladlethina (Ladlethina): and I choose to PVE I hate PVP its so stupid

[2017.09.10-12.37.47:359][419]2017.09.10_12.37.47: Tri_Gunner01 (Tri_Gunner01): then leave

[2017.09.10-12.37.51:111][498]2017.09.10_12.37.51: Wenju (Wenju): so, during the weekend people are a little more "purgy"

[2017.09.10-12.38.03:186][814]2017.09.10_12.38.03: Ladlethina (Ladlethina): but having some wanker make accusation as a walk by just to say hello holy crap dude \

[2017.09.10-12.38.09:846][987]2017.09.10_12.38.09: Wenju (Wenju): go to a pve server, gl getting out the beach

[2017.09.10-12.38.16:927][174]2017.09.10_12.38.16: Tri_Gunner01 (Tri_Gunner01): I WASNT ACUSING YOU

[2017.09.10-12.38.32:511][580]2017.09.10_12.38.32: Ladlethina (Ladlethina): yes you did in local chat flat out
[toxic convo continued]

Bunn3h

Admin





Posts

: 294


Reputation

: 28


Age

: 30


Location

: VA



---
Permissions in this forum:
You
cannot
reply to topics in this forum